Where chamois climb and eagles dare lies one of Greece's most stunning destinations: Drakolimni, the "Dragon Lake". Surrounded by lofty peaks and perpendicular cliffs, its location couldn't be more dramatic. One of the best day trips from Ioannina and a perfect introduction to the alpine wonders of Epirus.  
Local folklore tells the tale of two dragons.
When the world was virgin and man was merely taking its first steps, these mythical creatures descended on the magnificent peaks of Epirus. The snow-capped summit of Smolikas was sought out by one, while the other alighted in the looming shadows of Tymfi. Building their lairs beneath the darksome surface of two alpine lakes, they dwelled in their watery realms for some time, ignorant of the others existence.
However, serenity was not to last, and before long the drakes had grown restless, wary of their respective presence.
The day came when, fuelled by rage and jealousy, they ascended from the icy depths of their abodes, determined to settle this rivalry once and for all. Beneath towering peaks, they clashed, and the gut-wrenching roars of their struggle echoed from the lifeless walls around them.
Locked in eternal conflict, they hurled boulders and pine trees at one another, while the frail humans of the forested valleys below cowered in fear in the face of this forbidding frenzy. So savage was their strife that they dented the rock and bended the earth on which they fought, tearing the ground asunder and creating the stunning landscape visible today.
The dragons might have vanished long ago, yet their magic has lingered. This guide will provide you with all the necessary info to visit this enchanted place as a daytrip from Ioannina, including a trail description, how to get there, when to go, and more.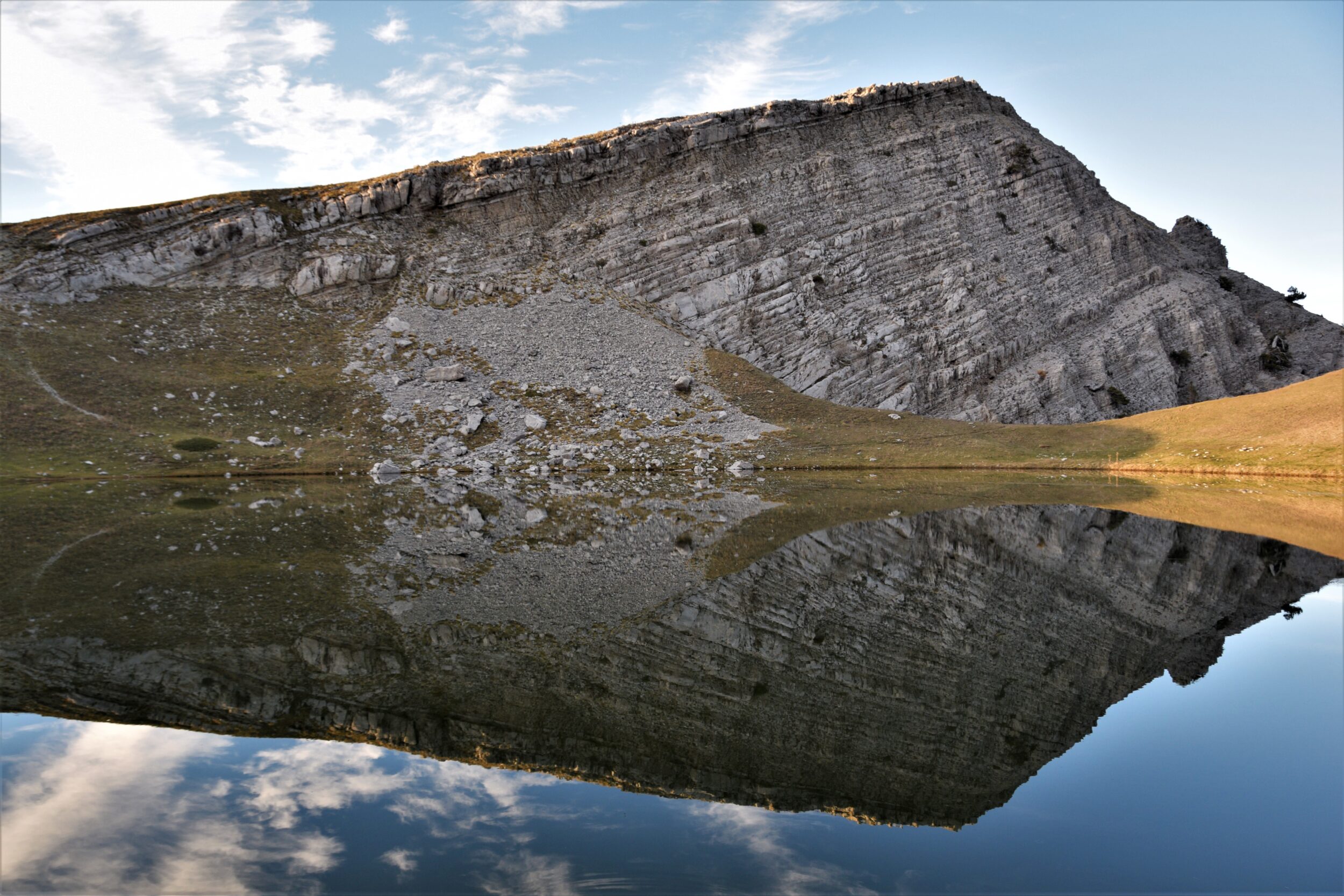 DISTANCE | 17km round trip

ELEVATION | 1050m +/-
DURATION | 7-8 hours
DIFFICULTY | Medium
BEST TIME | Fall (Oct-Nov)
THE CROWN JEWEL OF PINDOS
Once you leave the winding alleyways of Mikro Papingo behind, a dirt path leads into the adjacent woods and begins to crawl up the mountainside towards the Tymfi massif. Overshadowed by the looming scarps of Astraka, the dense woodland slowly dwindles as you ascend and gives way to swaying meadows and hardened shrubs, before even the most resilient trees yield to the altitude. 
As the landscape opens up, the trail continues to snake up the rugged slope, now strewn with boulders, before reaching the Astraka hut, scenically positioned at the edge of a precipitous ridge in the shadow of Astraka. After a swift descent, you will find yourself at the rocky shores of Xeroloutsa lake, ready for the final stretch of the hike. While the pastures appear parched and dry in fall, following the relentless Greek summer heat, they brim with life in spring. As soon as the snow melts and continues rainfall wets the ground, the slopes transform into a verdant carpet adorned with the colourful presence of thousands of wildflowers. A stark yet beautiful contrast to this otherwise barren mountain scenery.
From Xeroloutsa lake, the path traverses a little mound, passing some stone huts and boulders, ere a brief scramble up the ultimate hill heralds the end of the trail. As the path flattens out and slowly creeps towards your desired destination, the anticipation rises. 
And behind a final bend, at last your gaze will fall upon a perfectly still surface and will lose itself in the immaculate reflections of the surrounding mountains.
This is Drakolimni, the crown jewel of Pindos.
THE NAME'S ORIGINS
Today, the lake's name, Drakolimni (drako = dragon; limni = lake), stands testament to these magical beasts. In fact, the lake near Mount Smolikas (the other dragon's lair) is also called Drakolimni, yet lesser known than its twin at Tymfi.
However, should you not believe in dragons, modern science has a different explanation for the name's origins.
Protected by both Greek and European law, a very rare species of newts, the Alpine Triton, inhabits the murky waters of the lake. Easily spottable at the edges of Drakolimni, the resemblance between these dark-skinned amphibians and a dragon is not hard to see. Contrary to their fire-breathing cousins, these animals are harmless though.
HOW TO GET TO MIKRO PAPINGO WITHOUT A CAR
I am not gonna lie, getting to Mikro Papingo without a car is a pain in the ass. Public transport to the village is scarce (massive understatement). The sole bus going there from Ioannina runs once every two weeks!
The only way to get there otherwise is a combination of public buses and hitchhiking. I know, not everyone's favourite but the only option if you still want to embark on this hike without handing over your precious travel money to a cunning taxi driver taking advantage of the atrocious public transport situation or waiting around for one of those elusive buses.
Here is what you have to do:
1 | Take a bus either towards Kakavie (Albanian border) or Konitsa and get off in Kalpaki. Since you will have to hitchhike from there, the earlier you leave Ioannina the better. Check the schedule here.
2 | Once you get dropped off, head to the northbound road leading towards Konitsa. Find yourself a spot where people can easily stop and pick you up and start putting your thumb to use.
Should you be unsuccessful in your quest to get to Mikro Papingo directly, try to make it to Aristi at least. Either continue hitchhiking from there or arrange yourself a taxi (still not ideal but way cheaper than from Kalpaki).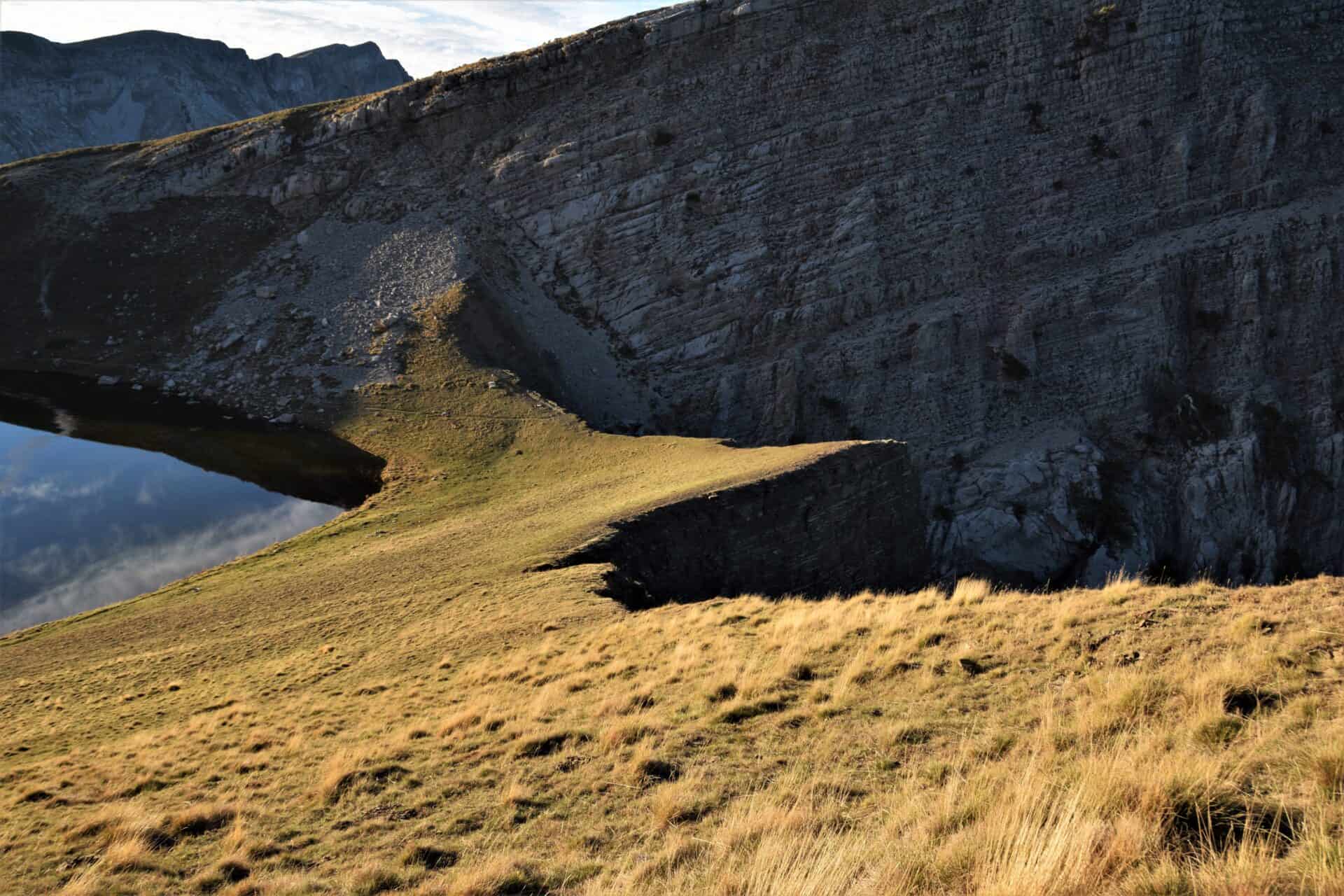 HOW TO GET BACK TO IOANNINA
If you want to return to Ioannina on the same day, make sure to get back to Mikro Papingo before dark. Mikro Papingo is the last village in the valley and hitchhiking from there is tricky enough, even before the sunset.
You are either looking for a direct ride back to Ioannina or at least out of the national park to catch the last bus from Kalpaki towards Ioannina. Inform yourself about the bus schedule (for the bus from Kalpaki to Ioannina), to know how much time you can afford looking for a ride.
Should you opt to take a taxi to Kalpaki, calculate enough time for the car to reach you. The ride from Mikro Papingo to Kalpaki takes roughly 40-45min, so plan accordingly.
Alternatively, if you find a group of people, you could always rent a car yourself for the day, giving you more time for the hike and peace of mind for the return journey. If you are staying at the Backpackers and Travelers Hostel in Ioannina ask Kosta to refer you to one of his friends to get the best price (40€/day, June 2022).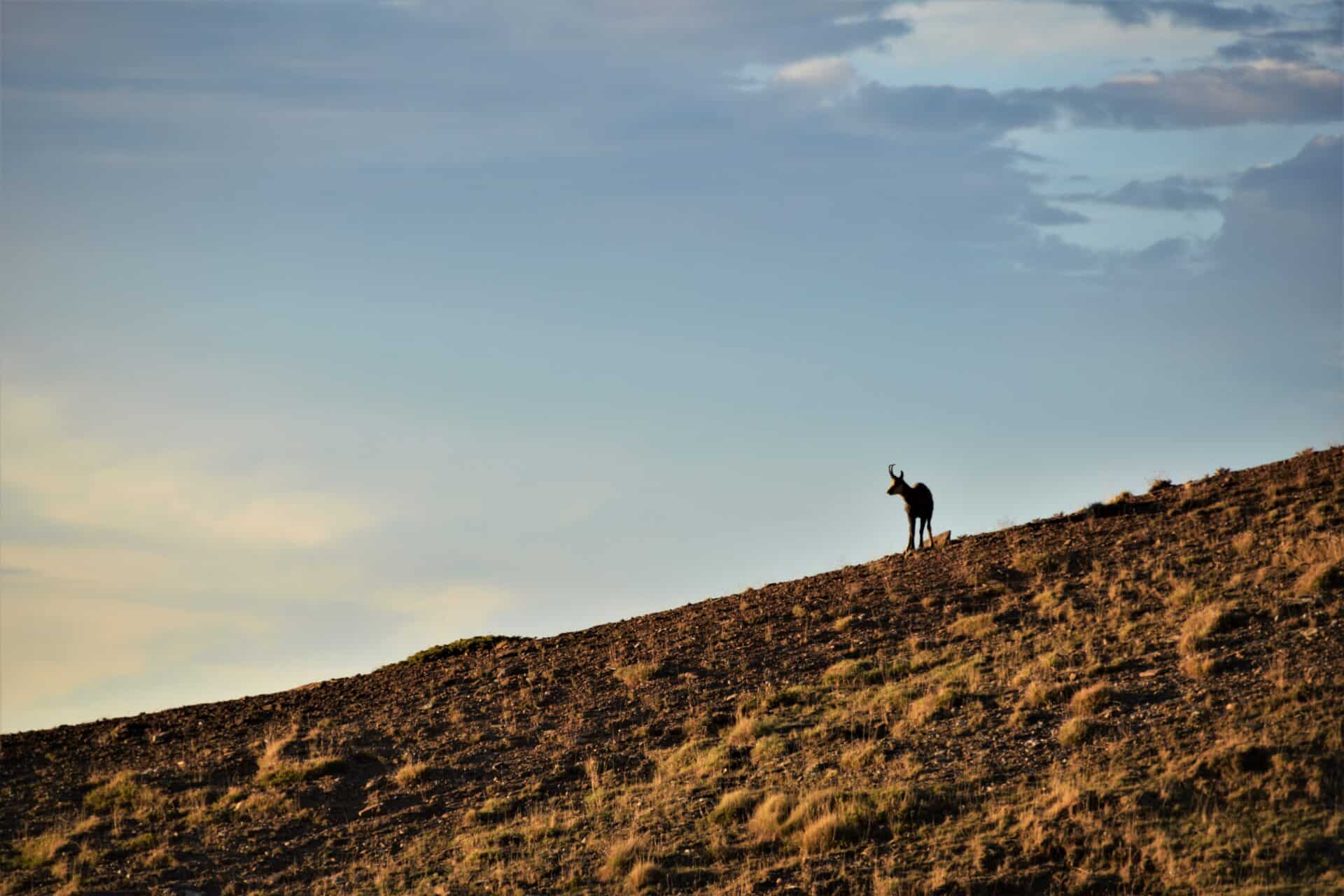 Gear | Even though hiking to Drakolimni takes a while, it doesn't require special preparation. Good footwear is essential for a pleasant excursion out in the Pindos, and I highly recommend bringing a pair of hiking poles for those struggling with their knees.
Also carry a flashlight just in case you have to descend in the dark.
Food | Although there is a small shop in Makro Papingo, I suggest already buying your snacks in Ioannina, as they are most likely limited in their selection.
The Astraka refuge provides meals (but no snacks) for hungry hikers, as well.
Water | I recommend around 2l of water for the hike. You will be able to refill at four different occasions during your climb up to the refuge and don't want to carry unnecessary weight.
If you are planning on using the water from Xeroloutsa lake or Drakolimni bring something to filtrate the water.
Sun protection | Most of the trail comes without any shade and temperatures can easily rise well above 30° during the summer months. Even in spring and autumn the heat is not to be underestimated, therefore, properly protect yourself from the sun by using sunscreen and headwear.
SPRING (May-June) | As soon as the snow starts to melt, it is time to dust off your hiking boots and chase dragons again!
After fall, spring is probably the best time to hike to Drakolimni. Beginning in May, the trail should be clear of snow (for the most part), while blooming meadows bestow a wonderful look to this otherwise rugged place. However, it is also the wettest season, so make sure to check the forecast before you head for the mountains.
SUMMER (Jul-Sep) | Summer is high season in Greece. While most people will seek out pristine beaches and descend on the country's countless islands, the more adventurous travellers will find themselves in Epirus, tackling the staggering peaks of Pindos.
Although it is the busiest time of the year, crowds should still be manageable, in comparison to similar hikes in Europe. Summers in Epirus are relatively mild, but temperatures might nevertheless reach 30°+, so factor in the heat!
AUTUMN (Oct-Nov) | When the days grow shorter and the dim woods of Pindos change their dress, it is the perfect time for venturing out into this remote hinterland. Most tourist will have left Greece at that point, yet the trails, permeating this rugged land, will still present themselves in perfect hiking condition.
Temperatures will be ideal (10-20°C) and continuous rainfall shouldn't be an issue either. It is also too early for snow to occur.
Lower temperatures, limited rainfall, and few people crown fall the best season for discovering the beautiful expanses of Tymfi.
If you do not plan on returning to Ioannina the same day, there are a couple of options regarding accommodation:
Papingo | Both Mikro and Makro Papingo offer a wide range of hotels. This is definitely not a budget option, however, so backpackers might want to think twice before deciding to stay a night in these charming stone dwellings.
Konitsa | Hikers might decide to descend to the village of Konitsa rather than Papingo, after reaching the "Dragon Lake", however, I only recommend this if you start the trek really early and have enough time to get there before sunset. Accommodation will be cheaper and there are regular buses though (albeit not in the evening and on weekends, June 2022), making this option quite viable in my opinion. Hitchhiking will also be significantly easier from Konitsa.
Astraka Hut | The Astraka hut is the sole refuge atop the Tymfi massif, and the ideal base for exploring this mesmerising area. They offer relatively affordable accommodation (18€/night; 13€/night for climbing club members), as well as hearty meals for hikers seeking to explore these magnificent mountains. The hut is operational between May-October/November, depending on the weather/snow conditions.
Be aware that you will have to reserve a bed beforehand via email.
You must also bring your own sleeping bag as they will only provide beds but neither blankets nor pillows.
For exact opening dates, further info, and contact check out their website.
Wild camping | The cheapest and coolest option. Some of the best and most epic camping spots I ever had were up in Tymfi.
PIN IT FOR FUTURE REFERENCE!
For more content consider following me on Instagram.
Looking for more hiking inspiration? Here are some more treks to stir your wanderlust: